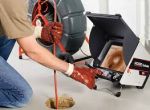 We use state of the art drain camera inspection equipment to determine the exact nature and cause of any blocked drain. Whether it be a small 40mm sewer drain or a large stormwater drain, we have an array of different sized camera's to get the job done.
Our LCD screens will give you a clear picture of what the problem is and how it can be rectified.
The camera head also incorporates a transmitter that sends out an electrical signal. This signal can be pinpointed above ground with a receiver (pipe location equipment), enabling the correct location and depth of the problem to be determined.
DrainCo can also provide a recording of the inspection in DVD or USB format, or supply a link so you can view the inspection online.